Review: Press Gang DVD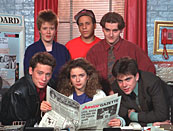 Season two of BAFTA winning comedy drama.
After the minimalist treatment that season one received, it's great to see that Network have lavished a lot of love on their second Press Gang release.
In case you've forgotten, Press Gang was about a school newspaper, its vicious editor Lynda Day (Julia Sawalha) and her on-off love affair with American Spike (Dexter Fletcher). It wasn't like any other kids show on in the late 80s - it was on film, it was funny and daring, and it wasn't afraid of punching the odd "Serious Issue" on the nose.
The joy of this DVD is discovering how clever the show still is. It's still got more laughs per minute than most modern shows, and manages the balance between comedy and drama a good seven years before Buffy. The characters are still joyous - you've probably forgotten how evil Lynda was, how devious Colin was, and quite how dull Kenny could be.
Sometimes it is a little pedestrian - while Buffy fought to close the Hellmouth, Lynda struggles to keep open a leisure centre - but somehow the lack of events reinforces how interesting the characters are. You could listen to them wisecrack for hours.
The special features are a weird delight. As well as a rough cut of an old documentary about the show, there's a cleverly edited gag reel (it's just the stars cracking up). The highlights are the commentaries by writer Steven Moffatt and Julia Sawalha. Delightfully, Moffatt remembers everything and Sawalha remembers nothing. Unless it involved kissing Dexter Fletcher.
They're both candid about the way the show was made (well, Moffatt's candid, and Sawalha just agrees vaguely). You learn that Spike always wore glasses to disguise Fletcher's morning-after eyes, that Lynda was based on the show's whirlwind producer, and that Sawalha shredded her scripts for the litter tray ("straight from my typerwriter to your cat's arse" mutters Moffatt).
It's a great disc, and the show richly deserved its Children's BAFTA ("just like a normal one, but it squeaks" says Moffatt).
---
---