Review: Timeslip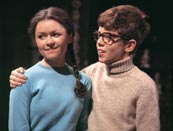 1970 Children's ITV series out soon on DVD.
Too young to watch it originally, Timeslip is one of those cult series that I'd head a lot of good things about, but, like The Prisoner, never seen.
Despite its reputation, my memories of ITV Children's science fiction revolves around Into the Labyrinth and The Tomorrow People, so my expectations weren't exactly high. A love of British camp old nonsense spurred me on, however...
Luckily, Timeslip is very watchable, mainly thanks to the complicated storyline. It reminded me of those early Doctor Who's where the writers would try and educate us with a science bit rather than just have the Doctor battling bug-eyed monsters. Cloning, weather manipulation and the reintroduction of a class system are all used to great effect.
Although there are four clearly marked stories, great cliffhangers and oodles of continuity mean that you get the feeling you are watching one EPIC adventure. With entrance though the time barrier taking Simon and Liz (and us) back to WWII, to various future Earths, and back again to swinging London - there's a lot going on.
My enthusiasm faded about halfway through The Year of the Burn-Up, however - at eight episodes this section suffers from the same problem as much sci fi from this era - a need for a bit of judicious pruning.
But if you get bored at any point you can always try looking out for Vaguely Recognisable Actors. Look out for the one who went on to play Alan Turner in Emmerdale (Farm) and the one who would play a mad scientist in the Douglas Adams' Doctor Who, City of Death.
Performances are generally good, with the older cast members relishing the chance to play different versions of the same people. The two leads, Cheryl Burfield and Spencer Banks have a chemistry that makes you believe that that they would get it on in the future and also have a big bust up too. Interestingly, Young Liz does have a terrible habit of shrieking, while Older Liz has a maniacal laugh. Young Simon looks like a young Jarvis Cocker, while old Simon sounds like Tony Blair.
Unfortunately, only one episode exists in colour, but that one episode makes you glad the rest are in black and white. It has that 'oh look, we've discovered colour!' feel to it.
There are no extras, other than the rather fun po-faced science bit that introduces the first two adventures. Thankfully, the advert break music is left intact, which prevents any Robin of Sherwood video horror of someone hacking things out with a pair of blunt scissors. Mind you, that theme does tend to crash in at four times the volume, so buy some nice furry mufflers – they'll help if it gets a bit chilly in the future too.
The Complete Timeslip is available on 19th July on DVD from Carlton Visual Entertainment Ltd.
---
---