Review: 24 series 3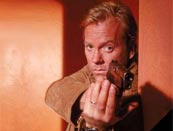 Jack Bauer's adventures come to DVD.
24 hours. Not one joke. 24 series 3 sees the show at its grittiest, darkest, and also most haughty.
24 works so much better on DVD than TV - especially this year. Not only can you stay up all night, boggling as the plot becomes ever more complex - but you can also skip through the torture scenes and the Mexicans.
The DVD is nicely put-together, but suffers from the same problem as previous releases - the menus spoil you as to either Who is Coming Back or Who is Going To Die.
The special features are fascinating, with documentaries taking you behind a couple of really important sequences (and show director Jon Cassar being very angry indeed). The commentaries are so-so (Being mostly: "Oh her - oh, she's very good, don't you think? We were so lucky to get her...").
The deleted scenes are fascinating, giving an amazing insight into how a character was almost entirely removed, and showing Michelle playing key scenes in a very different way. Unfortunately, due to an error on the disc, one episode's "deleted scene" is actually from a later episode, thus neatly telling you which character is going to die from plague. Cheers.
But what of the actual show? Without spoiling anyone, here is a brief guide to this year of the show from Lee Binding:
You will:
cheer when some medical results come through!
cheer when the camera pans around to Kim when they couldn't get someone from CTU San Francisco in time!
cheer when they reveal the other buyer!
cheer when Schemey Mrs Palmer takes the law into her own manicured hands!
cheer at Chloe, the new assistant, who has no tact.
cheer when you suddenly find the New-Boy attractive!
cheer when you discover that Tony Almeda can still get fatter over the period of a day even more than last year!
cheer at Kim's special mission wig.
However, you will:
boo at how long it takes to get going.
boo at the Salazars. They are booooorrrr-ing. And cliched.
boo at the sheer amount of torture there is this year.
boo as Kim doesn't get to do much. Or nothing much that puts her in danger every five minutes. Which is a shame.
wince at the ending.
weep at the feeble death of A Big Villain.
vow never to date Kim Bauer.
24 Series 3 is out on DVD from August 9th
---
---