Sapphire and Steel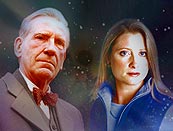 Co-producer Nigel Fairs talks about the new audio series.
Can you tell us about the set up for the new series?
There are five scripts, and we're recording them in two blocks. We approached a number of writers for ideas, and ended up with about 18 potential storylines, all of which had the authors' names removed. Jason and I then argued the merits of each proposal and came up with our five favourites, mercifully not written by the same authors!
Just in case you're wondering, I'd submitted three ideas I think, and Jason was VERY rude about at least one of them!
Has the original creator, PJ Hammond been supportive of the project?
He must have been supportive in some way to have allowed us to do it. Jason did ask him to write a script (which of course we would have welcomed) but he's a very busy man, writing stuff like Midsomer Murders and so on. I read somewhere that he thought the programme was primarily a visual one, which of course the TV series was, and, by definition, we can't be!
Talking of which, how do you think the programme will work on audio?
I hope that it will work just as effectively on audio, but in a different way. I hope we will create atmospheric, well-written plays that pay particular attention to character interaction. I want the supporting characters to be believable, very human and very interesting.
The original series was spectacularly visual (I adored it, by the way, just in case you're in any doubt!) and occasionally the supporting characters' dialogue suffered very slightly because of the necessary time accorded to visual detail. I hammered on and on about emotional truth and so on to all the writers we approached for story proposals, and the resulting stories are wonderfully rich in human terms. I actually cried when I read the final page of one of them (not telling you which one!).
Can you tell us about your new Sapphire and Steel? How did you decide on the casting?
Steel will be played by David Warner and Sapphire by Susannah Harker, both very accomplished actors that I'm looking forward to working with. I think we all agreed we'd like David Warner from the start (after we discovered we couldn't have the originals, of course, who would have been our ideal choices) and the road to Susannah has been a very interesting one, with a surprisingly varied list of possibles!
Is it set during the original series or after the 'stuck in space' cliffhanger ending?
I don't think we've ever explicitly stated that we were setting it during the TV run, though we have made a definite decision not to resolve the "stuck in space" cliffhanger. If I might quote Mr Hammond (whom I quoted in our writer's guide):
"I really think it's part of the mystery not to know where they came from. Not knowing has never bothered me, and I believe it did no harm to the storytelling. I've never been fond of exposition, especially when writing fantasy...Sapphire and Steel never gave an inch to its audience, and that was why they loved it."
I feel it's vital, in retaining the original series' unique sense of mystery, that we don't wander down the path of "soap"-style exploration of the leads (so no Sapphire/Silver romance stories or examinations of Steel's tortured childhood!) or continuity-led storylines.
Will you be introducing any new agents?
The fabulous Mark Gatiss will be playing Gold.
What can you tell us about the stories?
Steve Lyons' story is set on a train, with an unlikely set of passengers. It's a wonderfully written opening script which perfectly evokes the atmosphere of the original series whilst introducing an interestingly different new, er, element!
Joe Lidster tells the tale of an apparently ordinary suburban family with chilling secrets.
David Bishop's story starts on the London Underground and ends during a disturbing period of the city's history.
John Ainsworth has taken a modern-day prison as his inspiration and mine is set on a lighthouse. I think mine may well be the most controversial (I'm expecting people to hate it!), as it deals with a subject matter that the TV series would never have covered... though having said that, there were some pretty shocking images to be had there, particularly in the episodes with the dead animals and the baby!
Will the original theme tune be used?
That's under negotiation at the moment.
How has the recording gone?
The recording surpassed all our expectations. I think that, because the new Sapphire and Steel scripts have been primarily character-based, with very interesting emotional journeys and human situations, the casts of the three stories we recorded this week have been able to give performances of great depth.
Daisy Chain had a beautiful, natural script (by Joe Lidster) and from their very first scene, the actors playing the family around whom the play is based (the wonderful Kim Hartman, of Allo Allo fame, Stuart Piper and Lena Rae) had such a natural sense of fun together that you knew it was going to be heart-breaking when things started to go awry for them!
The Passenger, perhaps the most "traditional" S and S script of the lot, by Steve Lyons, introduced the fabulous Mark Gatiss as Gold, and I think people are going to love the relationship he has with the two leads - it's very different to anything we've seen (or heard) before! And I was so delighted with the cast of my play, The Lighthouse, that I want to marry them all and have their babies!!
Have you been impressed with your leads and their grasp on their characters?
I can honestly say that I now no longer hear Joanna Lumley and David McCallum as Sapphire and Steel, as unlikely and blasphemous as that sounds! David and Susannah were magnificent. Both of them cared very much indeed about both the scripts and their performances, and the excellent working bond they established was palpable. I can't praise them high enough!
Has there been one scene that has especially impressed you or encapsulated the essence of Sapphire and Steel?
Gosh there were so many... I couldn't possibly narrow it down to one scene that impressed me more than any other, but I can say that when I first heard Susannah say "Steel!" I knew we were onto something special...
Any humorous moments?
Of course when you're recording drama that has emotional tension, your casts are bound to let off steam with laughter, so, yes, there were plenty. And the two leads were so familiar with each other by the end of the week that there was a lot of mock teasing going on, which always makes me laugh.
The cast of Gallifrey were recording in the next studio, so there was a lot of cross-cast chatting going on in the green room! I know that both the lovely Louise Jameson and Lalla Ward were delighted that we had David Warner in the building!
Did anything suitably spooky happen during the recording?
One quite interesting little moment came on the last day when David mentioned that he could hear a woman's voice through his headphones. We checked the equipment, couldn't find anything, and Toby, the sound engineer, told me later that the studio we were working in is supposed to be haunted.
What's your favourite story of the original run? Why do you think it was so good?
I really do love them all. The railway station is the one that's stuck with me through the years - what an incredible atmosphere!! - though, seeing them again recently, I remembered just how terrified I'd been of the photograph story.
The one I hadn't seen before, and loved this time round, was the "murder mystery" one. So camp! (Don't worry, I've certainly no intention of making the new series camp, even if Jason let me!)
Is there any programme you're secretly a fan of?
Smallville and (God, I HATE to admit this) the latest Big Brother, which, despite every effort, was utterly addicted to.
Is there another cult programme you'd like to revive?
Thunderbirds of course. Particularly as they've apparently missed the point with the movie.
---
---