Dark Fury review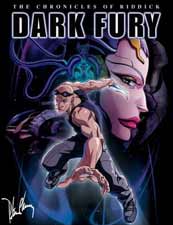 Riddick travels from Pitch Black to Chronicles via anime adventure.
With one eye clearly focussed on the success of The Animatrix, Universal have decided to take their chances with a bridging anime, designed to fill in the gap between Pitch Black and imminent sequel The Chronicles of Riddick.
Dark Fury is a thirty-five minute anime directed by Animatrix-alumnus Peter Chung and written by Pitch Black/Chronicles writer David Twohy. It picks up the story as Riddick, Jak and Imam are captured by a ship while fleeing from the alien-infested planet of Pitch Black.
Unfortunately, as always, it's out of the frying pan and into the fire - the ship is run by a crazed and evil aesthete, and it's packed to the gunnels with mercenaries. Cue plenty of blood and fighting as Riddick fights his way out.
The animation has a lovely fluid, cyberpunky style that really captures the essence of the characters, although the standard spaceship interiors could come out of any of a hundred dooomy computer games. Dark, gothy electronica keeps the mood strong, and there's plenty of eye-candy on offer.
The plentiful fight scenes - what this anime's really about - are excellent, balletic, fluid and physical, though strangely slow, a bit like competition-standard judo. A particular stand-out moment comes during a battle between Riddick and a psychadelic glowing jellyfish. Also, Riddick tells someone he's going to put a knife through their eye, then does so, which is unarguably cool.
The voice acting - performed by the original actors - is competent, except for Vin Diesel. He, instead, is excellent, even when only given lines like, "Unhhh. Uhuh." And there lays the main problem with the anime. Even given that this is a vehicle for the character, Riddick is so much more convincing, more solid and real than anyone else, that it's like watching him fight his way through a ship of waxworks.
Maybe even this wouldn't matter, if it wasn't for the utter silliness of his nemesis. Seemingly the evil love-child of Cruella DeVille and Charles Saatchi, the ship supremo is a nutso art collector who roams the galaxy nabbing notorious killers, then turning them into living scupture. As she explains to Riddick, he wouldn't understand why, because he doesn't understand art.
Well, I may not know much about art, but I know what's so downright daft that it doesn't even make a psychopathic sort of sense. Sorry, but a cult character like Riddick needs a bit more than a looney trying to finish their nick-nack collection.
Also on the disc are a couple of documentaries about the making of Dark Fury, which aren't half-bad, especially when they contrast storyboards and animatics with the finished product, and a handful of trailers for various bits of Riddick-based product. But that's all you get. It's a great idea, and nicely done, but Dark Fury does feel more like a bumper DVD extra than something worthy of a release in its own right.
---
---