I Love Judge Dredd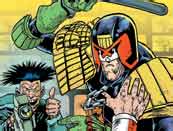 This week on Cult's new comics section - listen to I Love Judge Dredd.
Today sees Cult's 2000AD and British Comics site present The Judge Dredd audio I Love Judge Dredd, written by Jonathan Morris, the vicious wit behind our Prisoner episode guide.
I Love Judge Dredd sees talk show host Tark Pastry join Dredd on the beat in a satirical tale of celebrity, blackmail, violence and robosexuality (no, that's not a typo).
Pop over to the site to listen, as well as read classic strips and features, play quizzes and much more.
---
---