Review: Classic Trek DVD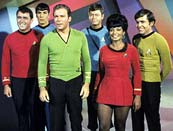 Season one goes boldly again.
The season that started it all off, that was responsible for Picard, Janeway, Archer, thirty-five years of little kids shouting "beam me up Scotty" in playgrounds and thousands of lame comedy sketches is finally out on DVD.
The set comes in an eye-damagingly bright yellow case, which opens like an egg to reveal eight discs nestling within. Slip one of them into your DVD player and you'll rewarded by a lovingly-crafted animation of the Enterprise bridge that forms the excellent menu screens.
The set contains all 29 episodes of season one (but shockingly not the original pilot episode The Cage) and copious extras. But no proper commentaries, damn Paramount's eyes! It's a crying shame, and is hardly offset by a few text captions by the people who did the Star Trek Encylopedia.
The episodes themselves look great. They've had a nice clean-up and the bold colours and crisp lighting really shine out, except, oddly, in a few model shots, which come complete with hair and scratches. A sort of faux 5.1 soundtrack has been added, which sounded fine to me, even during Shatner's more mumbly moments.
As always, there's plenty of extras, ranging from superb to the "Eh? What's that doing in here?" Best are the featurettes Birth of a Timeless Legacy (ooh, so modest!) and the season one overview, though Leonard Nimoy's Reflections on Spock and the light-hearted Kiss and Tell feature are also good.
Everyone who ought to makes an appearance - William Shatner, DC Fontana, Robert Justman, Walter Koenig, even some old footage of Gene Roddenberry. A decent attempt is made to actually say something new - very difficult after so many years - and to tell the real story of tight budgets and tighter deadlines. There's also some good easter eggs, including an excellent anecdote about a midget.
Less good is the documentary about the various science fiction writers on Trek - just dull, and with too much rambling by John D F Black and his ex-secretary wife, and the bizarre six degrees of separation game Trekker Connections. Only the geekiest of the geeky would play this, and they'd get the answers immediately anyway, so it would be no fun.
Neither of these have anything, though, on the horror of tedium that is Life after Trek: William Shatner, a feature that seems to have escaped from a free coverdisk given away by Horse And Pony magazine. To prevent any of you having to watch it, I'm going to give the plot away now - Shatner likes riding horses.
All in all, a great little package, and worth it to see those Bones, Spock and Kirk interactions all cleaned-up. It's the original and still, perhaps, the best - a no-brainer purchase for any Trekker.
---
---