Review: Mad Mad House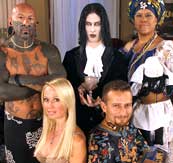 Big Brother meets The Munsters in Sci Fi's latest show.
Mad Mad House, premiering in the UK on the Sci Fi Channel this week, gives a freakish new twist to the reality show format. Take one spooky house, ten good little Americans and one each of the following: a Wiccan, a naturist, a modern primitive, a Voodoo priestess and a vampire.
Finding real-life vampires a real hoot, as I do, I was sold on this show from the beginning. Don, Mad Mad House's specimen, didn't disappoint. Pallid face? Check. Sharpened cheekbones? Check. Ridiculous goth clothes? Definitely check.
The other alts also proved good value, especially Avocado (sic) the naturist, who ate only raw food and wore a sackcloth robe, when he wore anything, and Art the modern primitive - six solid feet of muscle, piercings and tattoos. The ladies weren't quite so much fun, both coming over a little seriously, but Fiona the Wiccan was certainly easy on the eyes.
Delivered into the mercy of these five were ten of the wettest, most unimaginitively white bread young Americans ever. I mean, what's wrong with these people? You could clearly frighten them merely by wearing something not bought from Gap, so the prescence of the alts threw them into an immediate tizzy.
The girls all wandered around with wide, terrified eyes, obviouisly expecting some hideous violation of their honour at any moment, and Art's decision to do a bit of nude sunbathing almost sent one of the guys into counselling. As the worst thing that had actually happened by this point was Don steepling his hands and smirking while showing off his profile, this seemed something of an overreaction.
When the actual challenges - taking part in a voodoo ceremony and retrieving things from a vat of blood (aka red food colouring) - began, the discomfiture of these straight-edge muppets was magnificient. And despite clearly being deeply uncomfortable with the whole set up, they were all so desparate to stay when eviction time went round that there was more scheming than you'd find at a Dick Dastardly convention. Sadly, my choice for eviction, the vapid Lana, managed to hold on until next week, but you can't have everything.
This is own-back TV for anyone who was ever teased at school because they looked a bit different. It might be cruel, it's definitely silly, but it's a lot of fun.
Mad Mad House starts on the UK Sci Fi Channel at 9pm on Thursday 16 September.
---
---