Review: Carnivale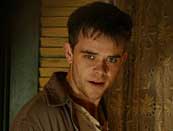 We review HBO's cult series about circus folk.
Roll up, roll up for Carnivale. HBO's new series pits good against evil in 1930s depression era America.
HBO is known for its thought-provoking adult drama, like Six Feet Under and the Sopranos. So, why have they dipped a toe into the famously unsuccessful paranormal-fantasy genre? And why have they done it with something as odd as Carnivale, which isn't just odd, it's also set in the Depression? If there's one thing US audiences hate more than fantasy, it's historical drama...
Despite waving a big red "CANCEL ME" banner, Carnivale's made it through to a second series. It's clearly got something more than hype going for it - but we're not quite sure what it is.
As the series receives its UK premiere, we get a chance to find out for ourselves. Veterans of Twin Peaks or Babylon 5 will soon realise this isn't just classily-made television - every surreal moment could be a clue to what's really going on.
The opening episodes are more about questions and characters than answers. Why does a travelling circus recruit young Ben (first seen burying his mother)? Who are the unseen Management who run the circus? Dare we trust Samson, the charming dwarf who does their bidding?
The Carnivale is satisfyingly full of freaks - from a bearded lady and Siamese Twins through to a fortune teller controlled by her comatose mother.
Even nice, normal Ben turns out to possess fairly terrifying powers – can he really be a healer? And how is his story related to that of weird Methodist preacher, Justin Crowe - with darker powers of his own?
We've managed to get to the end of this review, and only compared the show to Twin Peaks once - which is the easy way out. Like that show, this is weird, compelling storytelling, with a dwarf and very few answers. With so little revealed, it's almost impossible to pass judgment on the show - it's hard to tell if this is just good, or going to be great.
by Amanda Murray
Carnivale is on FX on Sundays at 9pm.
---
---