Tenko Season 3 DVD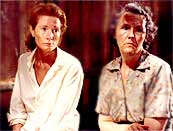 Review: What's so special about Tenko?
The BBC achieved several successes with wartime dramas in the 1970s: both Colditz and then Secret Army holding viewers captivated, but both of these only told the story of events in Europe.
Lavinia Warner's Tenko, which arrived in 1981, examined the Asian war through the eyes of a group of ex-pat European women who are captured by the Japanese while fleeing their homes in Singapore. They soon find themselves interned in prison camps run by brutal officers who believe the task of guarding 'third-class citizens' is beneath them.
What made Tenko so captivating was the power plays between the women and their captors. The prisoners soon realise that trying to escape can be a deadly and futile risk and that their best chance of survival is total obedience. This often leads to emotionally fraught scenes where the women beg for mercy from their impassive 'masters'.
While the Japanese were the obvious villains (such as the vicious sadist, Captain Sato), conflict also came from the women themselves, either because of escape attempts resulting in the punishment of the entire camp, or because of collaborators betraying their fellow inmates in return for privileges.
Series Three begins with a great deal of change. Many of our old friends from previous episodes have died, and those that survive have only the last vestiges of energy left to fight.
When they are all summoned to an impromptu roll-call in the camp, they fear the worst and begin to collect rocks and stones so that if the Japanese decide to shoot them all, they can at least die fighting. What happens next comes as a surprise to them all...
It doesn't spoil the plot to reveal that this series sees the women released from the camp and returned to Singapore. Some of them, though, realise that adjusting back to the lives they once knew will be impossible after all they've gone through.
Ironically, by having to face death, torture and despair, many of them have developed a level of independence and strength they'd never dreamed of before the war. They can't just go back to being meek trophy wives who organise trivial tea parties.
This final series has just been released on DVD by Acorn Video. It's accompanied by the 1985 Tenko Reunion special, which brings the women back for one last time only for them to discover a traitor in their midst.
Though it's a very serious story, Tenko isn't as relentlessly grim as it might sound. Never one to avoid melodrama, it can veer towards camp, which will appeal to anyone who enjoyed Blake's 7 or even Bad Girls. There are a few comic moments that make the more horrific scenes slightly more bearable. And of course, the limitations of taste and decency on TV make us all too aware that it must have been much worse in real life.
Now, where's the quinine?
Jim Sangster was the resident expert for the BBC's Spooks website and can currently be found working on the h2g2 Guide to Life, the Universe, and Everything.
---
---