New Hitchhiker's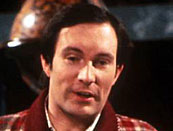 Review: First episode of new series.
Arriving through the the sub ether a couple of decades later than expected, the self-proclaimed Tertiary Phase of The Hitchhikers' Guide to the Galaxy premiered on Radio 4 last night.
Most of the original radio cast, led by Simon Jones' Arthur Dent, returned and gave their all for the new series - a dramatisation of Douglas Adams' Life, The Universe and Everything.
Conspicuous by his absence, however, was the original voice of the Guide, the late Peter Jones. Director Dirk Maggs cleverly replaced him with the excellent William Franklyn by means of a dodgy software upgrade to the Guide, dialogue spookily flitting between archive recordings of Jones and Franklyn before settling on the latter.
The plot involved Arthur talking to the trees on prehistoric Earth before joining Ford Prefect in chasing a Chesterfield sofa drifting through time, an immortal being with a mission to insult the population of the universe (in alphabetical order, of course), some iconsequential Zaphod and Trillian scenes. Oh, and Marvin stuck in a swamp with a talking mattress.
It all passed the time admirably, but the humour was certainly more thinly-spread than previous series. Music from the BBC Radiophonic Workshop was sorely missed too.
Still, with intergalactic cricket, and the reality-bending joys of Bistromathics still to come, The Hitchiker's Guide to the Galaxy is a very welcome treat for cult and comedy fans, and will be appointment radio for the next few weeks.
---
---