Blake's Junction 7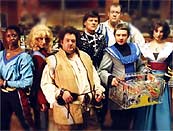 Review: Fab short film set at Newport Pagnell services.
From the Liberator to a Volvo and a caravan. Time hasn't been kind to the Blake's Seven crew.
Ben Gregor's stunning short film features a miserable night in the team's life. They're tired, low on petrol, and Vila's bursting for a pee. Then Servalan turns up.
You'll be thrilled to see Servalan played by The Office's Mackenzie Crook, and startled to hear Johnny Vegas's lovelorn Blake.
It's wonderfully bizarre stuff - from Travis trying to explain motorways through to Orac's taste for booze. It adds a weird and lovely depth to the familiar TV setup - Dayna's got the giggles, and Jenna smokes like a chimney.
It also looks, oddly, far more expensive than the original series - even though everyone's still surrounded by formica and concrete.
The original Avon, Paul Darrow was at the screening. When asked why he'd come, he paused. "Well, the ticket was free," he replied. And then flashed that trademark grin.
Blake's Junction 7, directed by Ben Gregor and written by Tim Plester, was an official selection in this year's Edinburgh International Film Festival. It'll be shown at the 11th Annunal Cult TV Festival, taking place between 8-11 October. We'll keep you up to date with any other screenings we hear of.
---
---