Name that kitty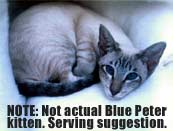 Suggest a name for the new Blue Peter pet.
It's time for children across the nation to go "aaah", as Blue Peter have a new pet - an ickle little kitten.
Introduced onto the show on the 14th of September, the kitten is a white and ginger tabby male, but he still needs a name. The Blue Peter team want your suggestions as to what he should be called, so send them in by clicking the link below. You could be part of TV history!
---
---