Black on Stargate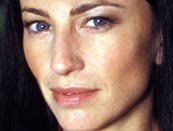 Claudia Black has just finished filming Stargate SG-1.
Farscape star Claudia Black has been talking to the Sci-Fi website about swapping wormholes for warpgates to film a guest spot on Stargate SG-1.
"I did my best to beat the living daylights out of Michael Shanks, and he was a very good sport," she said about her role as Vala in upcoming episode Prometheus Unbound. "[Vala] is very hard and mercurial. She does what she has to [to] survive, so it's very hard to tell what the real core of Vala is."
The role took its toll on Black though. "I was in Australia doing Peacekeeper Wars and then with two days notice I got on a plane to Canada to do Stargate. And I was awake on average for 21 hours a day... Were it not for the charm and grace of [director] Andy Mikita and Michael Shanks, I don't think I would have survived."
Prometheus Unbound will be shown in the US early next year. UK air dates are yet to be confirmed.
---
---