Cult TV Festival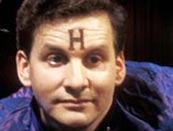 Stars and screenings for spaced-out weekend break.
The 11th Cult TV Festival will take place between 8-11 October 2004, at The Sand Bay Holiday Village at Kewstoke, Weston Super Mare.
The 72-hour marathon "themed holiday break" - running non-stop from noon Friday until noon Monday - offers a wide range of activities with celebrity interviews, TV production workshops and rare screenings.
An undoubted highlight this year will be the first chance for many to see the hilarious Blake's Junction 7 spoof.
Also included in the programme of activities are autograph sessions, memorabilia dealers, charity auctions of TV rarities, themed parties, quizzes and competitions.
The impressive guest list for the event includes Chris Barrie from Red Dwarf, Colin Baker, Bonnie Langford, John Levene, Jennie Linden and Roy Skelton from Doctor Who, Nicholas Young from The Tomorrow People, and Vaughn Armstrong who is currently playing Admiral Forrest in Star Trek: Enterprise.
Organised by unpaid volunteers, over the past ten years the Festival has raised £40,000 for various good causes, including UNICEF which will again benefit from the fund-raising in 2004.
Further information about the Cult TV Festival can be found by clicking the link to the Cult TV website below. It's not connected to us at all, just in case you were wonderingå
---
---