Mad Mad House 2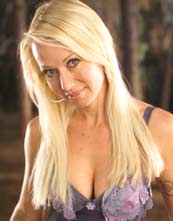 Review: Kelly discovers that drama won't get you everything.
It's the second week of Mad Mad House, and we're getting over the novelty of the Alts now. Time to turn our attention to the contestants.
The trials thrown at the contestants were lightweight and even lighthearted this week: a bit of occult cod-psychology from witch Fiona ("Just let that experience go so you can move on"); and a hilarious "match the pairs" game from Avocado that involved close inspection of nude privates. Blurred out on screen by the prudish American censors, of course - even people's bums get the blur treatment on this show!
But the trials weren't what this episode was about. Oh no - it was all about Kelly - a shouty drama queen who shrieked, argued, threw tantrums and pouted. There was a car crash fascination in seeing her alienate everyone - she was both incredibly irritating and totally compelling viewing at once.
You had to admire her for her spirit, but she didn't do herself any favours with her behaviour. Highlights included her moaning about the other contestants, ending an argument by putting her fingers in her ears and going, "la la la, I'm not listening" and barking like a dog.
None of this came up to her reaction at being evicted from the house, though. Given the chance to leave with a few shreds of dignity and integrity intact, she instead chose to make the least gracious exit possible. "I don't want your stupid ceremony," she spat. "He's a bleeping tattooed freak" she added, about Art, the person in the house who'd made the most attempt to befriend her.
It's a real pity - the show's producers should have kept her for the fireworks, but it's no surprise. Next week's eviction is a lot harder to predict - the contestants left are largely a colourless bunch.
Oh, I must just apologise for getting contestant Loana's name wrong in my last review, spelling it Lana. Obviously I was thinking of Lana from Smallville, which is ridiculous as Loana obviously has absolutely nothing in common with an insipid Chinese-American who deals with every situation by looking up touchingly with tear-brimming eyes.
Mad Mad House is on the Sci-Fi Channel at 9pm on Thursdays.
---
---