Latest Hitchhiker's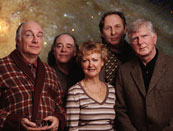 Episode two debuts tonight. Episode one still online.
Don't forget to tune in to Radio 4 at 6.30pm tonight to hear part two of the new Hitchhiker's Guide to the Galaxy series.
This week, Arthur and Ford arrive home in time for tea as the adaptation of Douglas Adams' Life, The Universe and Everything continues.
Don't worry if you miss it, however. The episode will be repeated at 11pm this Thurday and will be available on the Radio 4 Hitchhiker's Guide site for a week thereafter.
You can still catch episode one on the site until then.
Look out for our review of episode two tomorrow.
---
---