New Hitchhiker's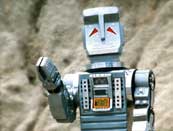 Review: Second episode of new series.
After a reasonably solid opening partnership from Adams and Maggs last week, episode two sees cast and crew hitting some impressive shots over the sight screens.
Ford and Arthur find themselves at Lord's cricket ground just prior to an unexpected pitch invasion by killer robots, before old friend Slartibartfast recruits them in his bid to save the universe.
It's a lot funnier than last week, even if Zaphod and Trillian don't get a look in. Such is the nature of the book.
Adams' mad ideas about Somebody Else's Problem fields and Bistromathics - the science based upon the theory that the normal laws of mathematics are suspend when trying to figure out restaraunt bills - are inspired.
Other delights included Richard Griffiths as the new Slartibarfast and cameos from cricketing gods Henry Blofeld and Fred Trueman.
Although it occasionally betrays its origins as a novel rather than being specifically written for the medium, the new series is continuing to prove a delight.
If you missed it, you can catch the Radio 4 repeat at 11pm on Thursday, or listen to it online after that.
---
---