Skippy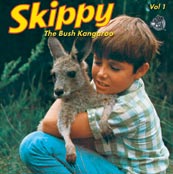 The marvellous marsupial comes to DVD.
"What's that Skippy? Uncle Wayne's fallen down a mine shaft? Strewth! We better skip along and rescue him."
Oh, how we loved Skippy the Bush Kangaroo. With just a few chirpy clickss the springy one would come to the rescue of many an accident victim.
Skippy was a clever kangaroo - not only could she alert her human friends to danger, she could also tie knots, undo locks, post letters, attack poisonous snakes and even play the piano and drums.
Now Fabulous Films/Fremantle Home Entertainment is to release the first series from 1966 on DVD on 18th October.
Extras on the release include:
Which Way Did They Go, Skip? – interview featurette with actor Ken James
Skippy's Club TV commercial
Skippy's Playground (TV special)
Adventures With Skippy The Bush Kangaroo – audio adventure told by John McCallum
Gallery
---
---