Buck and Beckett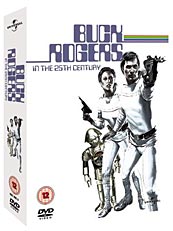 Two time travellers take a trip to DVD.
Both the first seasons of Buck Rogers in the 25th Century and Quantum Leap are coming out on DVD on Monday, 8 November.
In the former, Gil Gerard (that's a bloke) plays Captain William 'Buck' Rogers, a NASA astronaut who is thrown 500 years into the future and becomes a hero.
The series, Glenn A Larson's follow-up to Battlestar Galactica, ran from 1979-1981 and is best-remembered for its cute robot Twiki, and for Erin Gray's outfits.
In Quantum Leap, Sam Beckett (Scott Bakula) finds a time-travel experiment goes "a little ca-ca" and he finds himself inhabiting the bodies of people throughout the latter part of the 20th century.
The only way he can leap time is "to put right what once went wrong".
Strangely none of the episode feature Bakula travelling to the set of Enterprise to make it a watchable show.
---
---