Mad mad house 3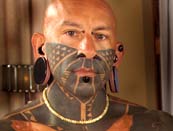 Shopping, clay-smearing and animal guts.
This week on Mad Mad House we were touched by a simple trip to the shops, titillated by women's empowerment, and thrilled by the nastiest trial yet. So, a good time was had by all.
You know, I'm beginning to warm to some of the contestants. Take Eric for example. He and the other lads accompanied Don, Art and Avocado to the shops, where the three alts stood around saying daft things like "What's everyone looking at?"
An old lady homed in on Art, and intriguingly, though incorrectly, identified his tattoos as "the devil". "Do you have a heart?" she asked, bizzarely. Eric leapt to the pierced one's defence. "He's probably got the biggest heart I've ever known," he replied, sweetly. Aaah!
Back at the house, the girls were bonding with a few female empowerment rituals - worshipping the goddess inside themselves, that sort of thing. In practice, this turned out to be a sort of sacred skin treatment, as they put on skimpy white outfits and rubbed clay on one another, then had a wash and dallied about drinking wine and hugging.
At this point, the shopping party returned, and the show slipped into 1970's top-shelf mode as Fiona demanded thigh massages, peeled grapes and worship. The lads were only too happy to oblige.
Things weren't all lovey-dovey; for a bunch of people keen on tolerance, the Alts can be very judgemental. Motormouth Tim, for instance, was told that talking too much was warping his spiritual development. So he took a vow of silence, as you do.
Anyway, after a gut-wrenching trial (involving mud, fish, honey, feathers and animal guts - now that's what I call a Daz challenge), poor old Brent got the bum's rush. "Who?" I hear you say. Well, exactly.
Good stuff - keep it coming.
Mad Mad House is on the Sci-Fi Channel at 9pm on Thursdays.
---
---