Century City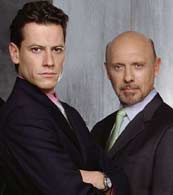 New futuristic drama starts tonight on Sci Fi.
Century City is that rare thing - a science fiction show that doesn't involve space travel or crazed cyborgs.
Billed as a cross between LA Law and Minority Report, Century City explores the moral questions we'll face in the not-too-distant future.
It's the year 2030, and LA has been rebuilt as a gleaming metropolis after a catastrophic earthquake. In this future utopia we follow the fortunes of six lawyers - including Brit Ioan Gruffudd (King Arthur, Hornblower) - who use cutting edge technology to make sure justice is done.
Century City starts at 8pm tonight on Sci Fi.
---
---