New Hitchhiker's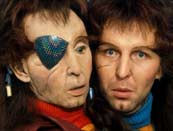 Review: Third episode of new series.
This week we're treated to an intergalactic history lesson, in which it's revealed that the solitary people of Krikkit were so peeved that they were not alone in the universe, they decided to wipe it out. Unsociable lot.
Arthur and Ford have been recruited by Slartibartfast to retrieve the pieces of a device designed to keep this errant race under control, before it falls into the wrong hands. Unsurprisingly, Ford really can't be bothered, being far more interested in a party they need to visit upon the way, whilst Arthur gets diverted in an unusually tense cliffhanger.
Meanwhile, Zaphod has been abandoned on the Heart of Gold, with only himself for company - not too bad if you have two heads, I suppose - to face Krikkit robots on a mission.
As a special treat for Douglas Adams fans, the author himself makes a cameo playing Agrajag in the episode, not letting the small matter of his passing get in the way. He'd recorded the dialogue 18 months prior to his death just for fun - it was a part he'd always wanted to play. I'm glad he's finally had the opportunity.
If you missed it, you can catch the Radio 4 repeat at 11pm on Thursday, or listen to it online after that.
---
---