Charmed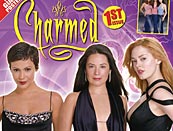 Charmed magazine previews season seven.
The first issue of Titan's Charmed Magazine features interviews with a number of the cast and crew of the current series.
Holly Marie Combs, who plays Piper, comments on the enduring appeal of the show, "I think it's that we enjoy what we do, and I think it comes through, and we always have fun."
She goes on to say how she'd like to see the show end, but don't worry, there are no plans as yet!
"I want to end the show with some responsibility," she says. "By that I mean, responsibility to the fans who've been with us and watched the show forever, and really have an ending to the story – have it be planned!"
The magazine also talks to Dorian Gregory about playing Detective Darryl Morris.
"I love Darryl," he says. "I think the show is ultimately about life, love, family, devotion and helping. It says no matter what you are faced with, you always take care of your family and [there's also the] idea of always, almost selfishly, helping those who have nowhere else to go. Those are the themes of who this guy is and who I am as Dorian."
Plus, Brad Kern the shows executive producer/head writer tells us why he thinks Charmed has lasted so long.
"It starts with our stars and their chemistry and their ability to sell to the audience they really are sisters and, through that, there really is magic.
"I've never really thought about whether or not I'm surprised by that," Kern says. "This might sound hokey, but I feel privileged, I feel blessed, to seven years later be able to help contribute to delivering a product that the audience likes."
He also gives an indication of what we can expect in season seven.
"We'll see the after-effects of the betrayal by Leo's mentor, this Elder's attempt on Leo and Piper's children," Kern reveals. "Now their collective moral footing is shaken. They've been fighting the good vs evil battle for the greater good for a long time, but when the Greater Good turns on you and attacks your children it makes you wonder 'Who are the good guys?'"
Charmed issue 1 is out today.
---
---