The House of Eliott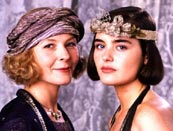 We revisit the past in our I Love TV section.
Do you remember when those plucky gals Bea and Evie, finding themselves on their uppers, decided to become designing women?
The House of Eliott, which ran from 1991 to 1993, starred Louise Lombard and Stella Gonet. It was devised by Eileen Atkins and Jean Marsh, who had previously come up with the brief for Upstairs, Downstairs.
Take a stitch in time and visit our I Love The House of Eliott section for facts, trivia, clips and pictures.
---
---