Roobarb and Custard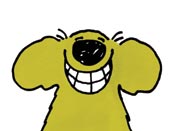 A new series for the cartoon dog and cat is on its way.
Those 70's favourites Roobarb and Custard are returning to TV. Roobarb and Custard Too, currently in pre-production, is being made by Monster Animation in Dublin.
Fans of the original series will be delighted to hear that the new series has been written by original writer and creator, Grange Calveley.
Roobarb and Custard Too will also feature the same wobble affect style of animation and Richard Briers will once again voice the characters and provide the narration.
Although no transmission date has been set, the series will be screened in Five's Milkshake strand and on The Cartoon Network.
---
---