Trek Nation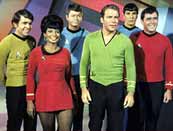 Fan contributions sought for new documentary.
The son of Gene Rodenberry, Eugene, is looking for fans of Star Trek to tell their own dramatic and personal stories for a documentary, Trek Nation.
"I want to find people out there who are not just stereotypical fans," Roddenberry said. "People who are NFL football players, high-profile celebrities, politicians, religious leaders, Harley-Davidson bikers and rap artists. I want to show that Star Trek has a positive influence on people.
"The stories I'm looking for are the dramatic stories, like Vietnam veterans or those who sneaked Star Trek tapes over the Berlin wall, which was a crime punishable by death. I know Vietnam veterans who put guns to heads every day, but [were] convinced by Star Trek that tomorrow would be a better day."
---
---