New Hitchhiker's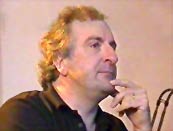 Review: fourth episode of new series.
Week four of our intergalactic odyssey finds Arthur meeting a creature that isn't exactly the president of his fan club and going to a party where the shots are as likely to come from laser cannons as in small glasses.
The late Douglas Adams, playing Agrajag, proves a delightful verbal sparring partner to Simon Jones' Arthur in the excellent two-hander that occupies a large part of the episode. I'd never suspected the author had hidden acting talents, but he's certainly no slouch playing a creature doomed to spend eternity dying and being reincarnated at the hands of Arthur.
Following an amusing interlude in which Arthur learns to fly by fogetting to hit the ground - and finding the last remaining can of Greek olive oil in the universe along the way - we arrive at a rather amusing party that's been going on for several generations.
Why they haven't run out of cheese and pineapple on sticks is something of a mystery, but any gathering that has already caused small wars between prospective carpet cleaning companies certainly sounds like something I'd like to attend.
The party guests include Ford and Trillian, plus an unexpected, but absolutely fabulous cameo from Joanna Lumley, causing mayhem as a crazy Australian with a dangerous taste in hats.
One of the delights of the episode's is Arthur's newfound fearlessness, given that until a future meeting with Agrajag, he isn't destined to die. Jones seems to enjoy the opportunity to get tough with Nordic gods and the like, after years of playing the rather put-upon Arthur.
All in all, probably the funniest and most diverse episode so far. Roll on next week.
If you missed it, you can catch the Radio 4 repeat at 11pm on Thursday, or listen to it online after that.
---
---