Mad Mad House 5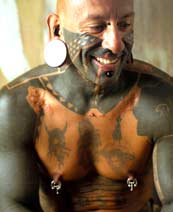 Art's left hanging as the housemates get plotting.
Scheming and sniping were top of the agenda in the house this episode, as Eric continued his plan to oust rival Nicole, and Fiona continued on her mission to be as annoying as humanly possible.
All this backstabbing and bitchiness is exactly what a reality TV show is meant to deliver, but somehow it fell a little flat here. It's interesting watching the housemates' characters come out under the pressure, but not half as interesting as seeing what the Alts get up to.
Art's exploits this week were a case in point. He bunged half-a-dozen meat hooks through his back and dangled from them, blissfully. Now there's something you wouldn't see on Big Brother - and it's certainly more interesting than seeing people arguing.
All in all, this has to be the first disappointing episode of the show - we saw too much of the contestants, too much of show-off, power-mad Fiona, and not enough general weirdness. Don the vampire actually seemed a bit bored - stick him in front of the limelight for a bit!
Oh, kudos to Noel for not seeing it as symbolic that a rainbow appeared after Art's hook-dangle. Alone amongst the housemates, he put it down to the sun coming out after rain. He therefore wins this week's Least-Mad Housemate of the Episode award.
---
---