Live on the Night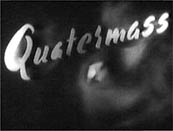 BBC Four's Time Shift strand looks at live drama.
Today's television dramas are recorded to ensure spotless performances and to allow for polished production, but that wasn't always the case. The first TV dramas were broadcast live, and had to get it right on the night.
Time Shift looks back at the golden age of live drama, and explores how drama makers today are rediscovering the power of live television. Featuring contributions from some of the stars of those classic dramas, including Z Cars' Brian Blessed, Dixon of Dock Green's Peter Byrne, and The Grove Family's Carole Mowlam.
Time Shift: Live on the Night is on Saturday 16 October at 9pm (repeated 1.55am).
After the documentary, there's a chance to see an episode of the The Grove Family, the soap named after the BBC's Lime Grove Studios.
---
---