Review: Bananaman DVD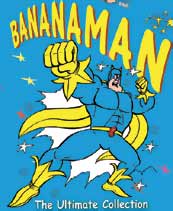 Bananaman bursts from 29 Acacia Road again.
"Bananaman," mused my brother, young enough to have loved it first time around. "One of the better ones. Not as good as Dangermouse, but a whole lot better, heaps better than Super Ted."
Back in the 80s, the adventures of Bananaman were brought to life with a tad of animation and a decent dollop of voice acting from The Goodies. They're out on DVD today, so we thought we'd give the exploits of this fruit-based superhero another look - after all, we were only twelve when we last saw them.
The cartoon followed the adventures of nerdy schoolboy Eric, who changed into musclebound moron Bananaman whenever he ate a banana. Oddly, Fyffes never thought of sponsoring the show.
The plots weren't exactly complicated, and the animation wasn't quite up to Pixar standards, but the cartoon holds up well today because of its sheer silliness. There's a generous sprinkling of sweet visual jokes, and some superbly daft voice acting from Oddie, Garden and Brooke-Taylor.
The release itself - all forty episodes over three discs - is strictly no frills. There are no extras, and the picture is a bit grotty in places. Most annoying, though, is the music. Often it's so loud you can't make out what's being said. Was it really like this back on TV?
If you liked Bananaman as a kid, you'll still like it now - it's a minor classic of silliness. That said, it's still an 80s kids cartoon, with lots of repetition and terrible jokes, so for goodness sake don't try to watch the whole three hours odd at once. You'd go stark staring mad. Bananas, in fact.
---
---