Galactica review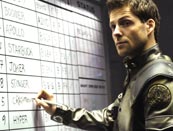 A gritty, realistic premiere for the revived space series.
Following almost straight-on from the mini-series, the first episode of the series - "33" - makes few concessions to the new Galactica virgin. It drops the audience straight into the pressure cooker, keeping a strong feeling of continuity with its pilot.
It's less than a week after after the war with the Cylons, and the fifty-thousand odd surviving humans are still reeling from the shock. Worse than that, they're reeling with tiredness, as Cylon attacks every 33 minutes - on the dot - have meant no sleep for vital crew members, as they have to bravely run away every time it happens.
On most sci-fi shows, this crippling fatigue would have been indicated by someone rubbing their eyes and yawning. On Galactica, people look dirty and stubbly, they forget what they're saying, they get snappy, and then blear to a halt. You really believe in them - in fact I could almost smell them through the screen.
The story itself is a fairly slight affair, darkened by the looming shadow of 9/11. A ship is lost, and the Cylon attacks stop. The ship returns, and the attacks restart, so Apollo and Starbuck destroy it, despite the fact that they may be killing innocent people as a result. Meanwhile, Gaius Balthar tries to protect his own back, while carrying out a bizarre theological conversation with Number Six in his head.
Galactica doesn't need switchback reversals or huge explosions (not that there aren't any) though. It's already won the battle to make us care about these people - so it can afford to sacrifice all-out action for a more realistic view of life during wartime.
Still, shame about the new music.
---
---