Hitchhiker's signing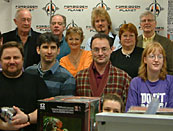 Radio cast appear at Tertiary Phase release signing.
Stephen Moore (Marvin), Geoffrey McGivern (Ford Prefect), Susan Sheridan (Trillian), and William Franklyn (The Book) were reunited for a signing at London's Forbidden Planet store on Saturday.
They were there to sign copies of Hitchhiker's Guide To The Galaxy: The Tertiary Phase.
Some fans even dressed up in costume for the event, including one who came as Arthur Dent and took off his dressing gown to be signed. We're assuming he had something warmer than pyjamas underneath.
The three disc audio CD features 25 minutes of exclusive and previously unheard footage and features cameos from Richard Griffiths, Chris Langham, Joanna Lumley and Douglas Adams.
---
---