Farscape review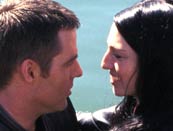 Our low-spoiler summary of what the Peacekeeper Wars did for us.
So, it's here at last - Farscape: The Peacekeeper Wars. And was it worth the wait? Oh yes.
It's touching, romantic, sweet, violent and highly explosive, just as Farscape should be. It's lovely to see John and Aeryn wisecracking together again, as they jump at high speed between various frying pans and fires. The old humour is still there, and the characters still end up in situations that would only happen in this show – Rygel's condition through most of the first half being just one example!
The effects are better than ever – from huge space battles to little details of the sets, everything looks wonderfully impressive. The CGI is top notch, and the gun battle sequences show that it wasn't just a rumour that the production used up every firework in Australia.
Given the tangled web of plot strands left dangling, it's simply amazing how good a job this mini-series does with them. Along with the real biggies, such as John and Aeryn's reconstitution, loose ends I'd completely forgotten about also pop-up to be resolved.
A lot of familiar faces return too, including some unexpected ones. There are some fantastic reunions, and wonderful character moments. Sadly, this is the last time we're ever likely to see some of them, but they get the goodbye they deserve.
My main worry is that The Peacekeeper Wars does too much for the fan, involving as much continuity, and knowledge of the main characters as it does. Farscape needs to attract new blood, and I'm not sure this is going to do that. Perhaps they'll be able to see past the references to see the great, character-driven romance at the centre though.
You could end with this mini-series, and feel that you'd had proper closure. But, as someone notes in the closing moments – there's a whole universe out there for the taking.
We'll report on UK showings as soon as we hear any news.
---
---