Has Been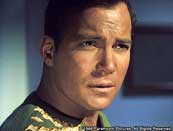 Review: William Shatner's latest musical effort.
It's been a while since William Shatner's most-famous musical endeavour, when he astounded our ears with his cover of Lucy in the... Sky... with Diamonds.
Those expecting Has Been to more of the same may be disappointed to learn that this time around the only cover is a reworking of Pulp's Common People. Here Shatner's unique delivery is put to good use, with his delivery of the line "Dance and drink... and screw" worth the price of admission alone.
Has Been is less gimmicky than you'd imagine. When originally approached Shatner drew a blank as to what he wanted on the album. Recruiting Ben Folds proved a masterstroke, with Shatner providing musings which Folds later weaved into songs.
What we are left with maybe a hotchpotch of musical styles – You'll Have Time features a gospel choir, Together features 50's 'do0 wop' backing singers, and title track Has Been recalls many a Western theme, Raw Hide in particular. But, bizarrely, Shatner's words make it quite a satisfying whole.
Not only that, many of the songs are rather poignant. It Hasn't Happened Yet with its poetic lyrics and piano and guitar bed, recalls Baz Luhrman's Everybody's Free to Wear (Sunscreen). While That's Me Trying, about an errant dad trying to put things right with his children, really tugs at the heart strings.
Fortunately, for your trad Shatner fan there is fun to be had - the aforementioned You'll Have Time features Shatner listing famous people, each one followed by a shout of "dead" from his backing singers, and I Can't Get Behind That sees him turning Victor Meldrew on us and ranting against the stuff he can't cope with.
In Has Been Shatner has produced a personal but rather accessible offering. Confounding the critics, in the process he has proved the point of the title track – that he "has been once, and could be once more."
---
---