Ivor Wood dies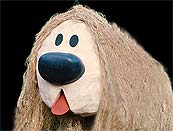 The Magic Roundabout animator has died aged 72.
Ivor Wood, who was half-French, joined forces with Serge Danot in 1963 to make Le Manege Enchant, which was renamed The Magic Roundabout when it was redubbed for the BBC.
The series was a huge hit and went on to be sold to 68 countries.
Further success followed in 1973 when he adapted The Wombles, based on the books by Elisabeth Beresford, for television.
These and other programmes such as Paddington and Postman Pat continue to delight viewers to this day.
Such is the enduring success of The Magic Roundabout that a CGI film version with the voices of Joanna Lumley, Kylie Minogue and Tom Baker is to be released next year.
Did you know that in the original French version, Dougal was called Pollux, and spoke French with a strong English accent?
---
---