Chancer DVD box set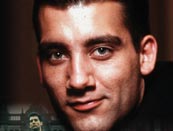 Review: Clive Owen's classy debut in a box.
Not many shows start out as Dynasty and end up as Twin Peaks. But the eighties were a time when anything could happen – when even a glossy show about yuppies and cars could become a quest for the soul of Albion.
Step forward Chancer, now all available in a DVD box set. Of course, you're not buying it to see how it cleverly subverts its formula by folding in agile references to Shakespearean tragedy. Nope. You're buying it þcos Clive Owen is sexy.
When I was young, nothing would make me watch a programme about cars. Apart from Clive Owen. He smoulders through the first season of Chancer, a wide boy wheeler-dealer with a dark past and a gift for dodgy business deals called in to save a car manufacturer. He may be talking about gear boxes, or clever import/export scams, but you don't care. The man's so charming he shimmers.
The rest of the first season is glossily made, but fairly straight-forward. There's Leslie Phillips' oozing slug of a banker, there's nasty posh boy Piers (Simon Shepherd), and there's lovely Susannah Harker as the smart love interest. The writing's fast, the plots are faster, and there's even a tart with a heart of gold.
It's the second season where the show really comes alive. Clive Owen returns as a broken man, haunted by a ghost, fighting to save both child and soul from crazed financier Thomas Franklyn (really scary Peter Vaughan from Porridge).
Where the first season was astonishing eye candy, the second is beautiful television. The eighties gloss has been polished so hard it shines, and the stories achieve an elegiac quality that's as indescribable as it is moving. Plus Clive Owen spends a lot of time in the bath.
The final episode even has Michael (Foyle's War) Kitchen as a deviant psychopath.
Buy it – it's uplifting, it's classy, and it's so good-looking.
---
---