Battlestar Galactica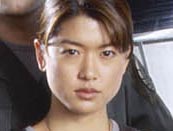 Review: Water - Move along, nothing to see hear.
Previously on Battlestar Galactica we've loved the grittiness, loved the 24-like realtime-ness and admired the sweaty vests.
But now it's only episode two and we're getting a tad bored, for this time it's all about water. "Water?" We hear you cry, yes water. Not the sexiest of subjects is it?
A big explosion has ripped into a tank, which is a bit of a problem when constant Cylon attack has meant that supplies, especially water, are running out. So, the race is on to get some H20 before they lose their voices and get a bit smelly.
The episode opens excitedly enough, with Boomer (the probable Cylon) waking up all wet (obviously, unaware of the water shortage) with a detonator in her hand and not knowing how it got there. Racing to the big futuristic store cupboard she finds a number of detonators have disappeared – that must have been some bender Boomer's been on.
Cut to footage of bomb clocks counting down. Time is running out...
Except that's where the excitement ends. On the strength of this episode it seems the production team's push for realism isn't going to let a potentially, if a little clichéd, plot get in the way. So the race against time to stop the bombs is swiftly dispensed with and it's back to the well-observed shots of people going about their lives, waiting for another inevitable attackå and looking for water.
While, we admire the producers for sticking to their guns and presenting us with a true picture of what a relentless war would be like in the future, it doesn't always make for good drama. While we wouldn't want them to resort to cute robots and moppet kids (well, maybe), there needs to be something to keep us watching.
We still want the old theme tune back, too.
---
---