Dead Zone 8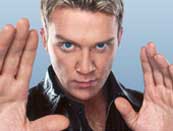 Review: Will Johnny ruin a wedding in Speak Now?
An essentially light-hearted episode which proves that you can't take psychic Johnny Smith anywhere.
There he is, off to a wedding, and suddenly he has a vision of himself stopping the wedding. Cue hilarity as Johnny must work out why...
There's a complex balance between the squirmy fun of Johnny bumbling about the wedding, and the emerging serious subplot of kidnapped doctors and dead husbands.
But it mostly works, and Nicole deBoer finally gets something to do other than bake. She's great, spending the episode running around looking increasingly alarmed as her ex-fiancee threatens to torpedo the happiest day of someone's life.
The obligatory sweet infant grates. Especially when it comes out with its spontaneously cute utterance three times.
---
---