Vampires on Seven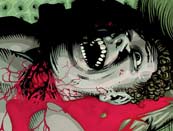 The Cult site's vampire tales get a Hallow'een repeat on radio.
This evening sees BBC7, the digital speech radio station, repeat the first of three tales originally made for the Cult Vampire section in their Seventh Dimension slot.
Going out this evening is chilling story This Is Now, written by Michael Marshall Smith and read by Jamie Bamber. Yes, the same one that plays Apollo in the new Battlestar Galactica.
Tomorrow sees Brian Stableford's vampires and dieting tale After The Stone Age broadcast, read by Clare Corbett. Finally, Friday's tale is Half-Sick of Shadows, by Graham Masterton, in which a group of dodgy archaeologists get more than they bargain for, also read by Jamie Bamber. Each broadcast is at 6pm with a repeat at midnight.
If you miss the broadcasts, the stories are all available to read or hear in the Cult Vampire section, along with articles, features and some great artwork.
---
---