Further Hitchhiker's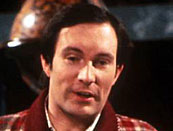 Dirk Maggs on the next Douglas Adams series.
In the new issue of SFX Magazine, writer/director Dirk Maggs talks about adaptating So Long And Thanks For All The Fish and Mostly Harmless.
"It's four episodes for each of the last two books and they're running them back-to-back as a series of eight," reveals Maggs. "So I'm writing those right now. We'll be in the studio in January."
Maggs also addresses critics of the Tertiary Phase, left puzzled by events that seem to contradict the original radio series. He urges listeners to wait and see.
"What we're going to try and do is bring it to a resolution that goes a long way to, if not tying all the ends together... at least at the end of the series you're gonna need to go back to The Primary Phase and listen all over again and figure it out. It's quite a nice fun thing to do!"
The next series will also depart somewhat from the books and have a happy ending for Arthur - something that Douglas Adams apparently wanted.
"He always said he'd write another Hitchhiker's book. The Salmon Of Doubt claims to be it but I think there was another one he had in mind. I think there was a resolution to the Arthur story that was not the end of Mostly Harmless - in fact I know there was."
The December issue of SFX Magazine is out now. The issue also includes interviews with Sarah Michelle Gellar and Ronald D Moor, plus a look at The Dead Zone.
---
---