Mad Mad House 7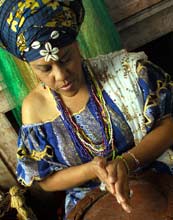 Review: More back-stabbing and bloody nonsense.
After last episode's slightly embarrassing vampire floorshow, blood was back on the menu this week when Don got to set the trial. Cue much cheek-sucking smirking and loony goth giggling from him as the contestants glugged the gore.
I had to wonder about the blood - what exactly was it? Surely health and safety would ban human claret. My bet's on pig's blood, which means that the contestants were really undergoing the less impressive trial of - drinking a black pudding smoothie.
Sadly for Don's ego, the contestants basically ignored him to concentrate on shafting one another. Loana was a special revelation, shedding her nicey-nicey persona to reveal the stony heart of an uber-bitch. With just a few sweet whispers to the Alts, she made sure Noel got voted out.
Poor old Noel probably wouldn't have made it through anyway, due to voodoo priestess Ta'Shia's bonkers belief that he was a cough medicine addict. For people who claim to be so spiritually connected and aware, the Alts really will believe any old cobblers. Ta'Shia even consulted the ancestors about Noel, but still managed to get the situation about 100 per cent wrong.
I'd say that means one of two things. Either the ancestors aren't listening - possibly because they don't exist - or they're having a bit of a laugh with this particular voo-wanna-do.
Mad Mad House airs on the UK Sci Fi Channel on Thursday evenings.
---
---