Creating Futurama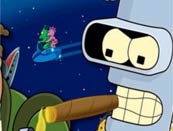 Interview: David X Cohen talks about Futurama.
With a complete box set of Futurama out now, we caught up with the show's executive producer and co-creator, David X Cohen.
How important was it to get the science right in the series?
Because of my science background, early on I was extremely concerned about the accuracy of the science we showed in Futurama. But eventually the rule of thumb came to be [that] science shall not outweigh humour.
Did the fact that Futurama was more adult than The Simpsons work in its favour or against?
We really wanted to go out of the way to make sure people didn't say, "Hey, you just took The Simpsons and moved their living room into outer space".
Our basic strategy was [that] we'll have the storylines be a little more adult, but we'll keep these elements that appeal to kids, and hopefully that will get everyone watching.
Was the structure of the show down to you?
Matt [Groening] had the very basic skeleton of the show in his mind before he came to me. I was working as a writer on The Simpsons, in 1997 or so, and apparently I stood out as the nerdiest guy among all of the nerds who were working writing at The Simpsons at the time. So I immediately jumped up, dumped my whole life on the side and said "yes".
How did you come to create Dr Zoidberg?
Dr Zoidberg started out as a parody of Dr McCoy on Star Trek. I thought, I'll have this doctor who knows nothing about human anatomy, and when he cuts off your leg, he sews it on your neck.
What was it like working on the Trek episode?
All of the writers on the show were big Star Trek fans and were very eager to come and see William Shatner and Leonard Nimoy recording their parts.
We didn't want to scare them, so we had everybody sneak into the recording booth. Then suddenly the door opened, and it was like a Volkswagen full of clowns... this explosion of nerdy Star Trek fans flying out of the door.
What inventions from the show would you like to have now?
Here in Los Angeles I would of course like to have the tube system to shoot round town. I would risk the regular malfunctions of the tube shooting me into a brick wall if that could move me around town.
Whose head would you like to see preserved?
At this moment I'm going to say my girlfriend Patty. When she reads this article it's going to score me a lot of points.
What sci fi series send up were you most proud of?
There was an episode where Dr Zoidberg goes back to his home planet to mate, and a lot of the episode is a parody of Star Trek. It comes down to this battle to the death between him and Fry. They say, "Please rise for the national anthem", and then the scary fight music from Star Trek plays.
Did you enjoy working on the DVDs?
Matt Groening has a theory that the commentary tracks on DVDs tend to be very dull and just explain to you what's going on. What he decided to do by design was not to pre-script our commentary. We're all going to get together and we're just going to say what comes to mind.
So I think you get a little more of a sense of what it was like when we were producing the show.
Of course you get a lot of the deleted scenes. It's such a relief to see these things we worked so hard on finally seeing the light of day.
Do you think we'll get to see more Futurama?
Well, I don't want to give false hope to any Futurama fans, because we haven't heard anything specific from the Fox network.
If Family Guy comes back and it's a bit hit, I think somebody at the network would have to turn their attention back to Futurama to at least consider it for another five minutes.
The videogame is very true to the series. Are you pleased with it?
I think Futurama is one of the few videogames where the writers for the show were heavily involved in writing the script.
One of our best and longest serving writers, J Stewart Burns check wrote the script for the videogame. If you play through the whole game you gradually uncover scene by scene this whole episode of Futurama.
Which Futurama character would you like as your best mate?
Of course I would want Bender as a best friend, because Bender is a one-man party, and where he is, you're having fun. So, I would not want him as my enemy, because then I would probably wake up having no possessions and possibly having had some of my organs borrowed and sold overnight. But as a best friend, absolutely.
The Complete Futurama box set is out now from Century Fox Home Entertainment.
---
---