Farscape on DVD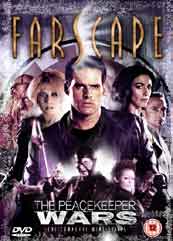 Mini-series release is on its way.
The Farscape mini-series, The Peacekeeper Wars, will be released by Contender Entertainment early next year.
The adventure charts the continuing story of John Crichton and his alien friends, now caught between two opposing sides in a war that could wipe out a whole galaxy.
Spread over two discs, the release will be crammed with extras.
"We're really pushing the boat out on this one," says Lee Binding, the Product Manager for the DVDs. "We've got great people working with us on this release, and it promises to be something special!"
---
---