Battlestar return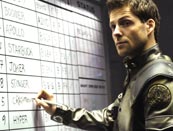 Original series star appears in Battlestar Galactica tonight.
Actor Richard Hatch, who played Apollo in the original series of Battlestar Galactica, appears in the acclaimed remake tonight.
In the third episode of this remake, Richard plays Tom Zarek, a freedom fighter who has been incarcerated. According to Richard his role is similar to Nelson Mandela in that he "challenges the powers that be".
It's a case of old Apollo versus new Apollo as Tom Zerek comes into conflict with Lee Adama.
Speaking to Sci Fi Wire, Hatch voiced his hopes that the character will reappear. "I think the way they set it up is that it's a guest star role that could have a life depending on circumstances."
Battlestar Galactica is on Sky One tonight at 8pm.
Look out for our review tomorrow.
---
---