Battlestar Galactica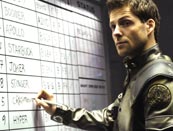 Review: Apollo on Apollo action this week in Bastille Day.
Any Galactica stalwarts still whining about how this series 'isn't as good as the original' should enjoy at least some of this episode - if only because it features a rather grizzled-looking Richard Hatch (AKA the original Apollo).
Having found an ice moon from which to retrieve some much needed water, the dry and ever so slightly grumpy fleet must now muster up a work force tough enough to harvest the goods.
Unfortunately for them, the only suitable grunts available for the job come in the form of a shipload of imprisoned terrorists. In what plays out as an excellent character vehicle for Jamie Bamber, Lee Adama (Apollo) is sent in to negotiate with incarcerated freedom fighter-come-leader Tom Zarek (Hatch), who's a touch unhappy with the fleet's current democratic processes.
And so, when Zarek leads a prison revolt, taking Lee and his away team hostage, it's time for a new versus old Apollo shakedown.
This is no fluffy affair either; in keeping with its time slot, the prison siege quickly descends into a gritty and menacing stand-off, with Zarek seeking martyrdom from Galactica's imminent payback, and the remaining prisoners seeking pretty much whatever they can get their hands on.
What is clear - after a very Cylon-intensive opening – is that thankfully, this series isn't just going to be the space equivalent of a pursuit movie. And what with terrorists, neglected internment camps and talk of presidential elections abound, this couldn't be more topical than if it was littered with Bush/Kerry election fliers.
So here's to seeing a bit of internal rot setting in among the fleet. From the looks of it, there's tension in them there hulls.
---
---