FAB for hire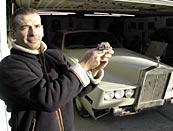 Thunderbirds enthusiast set to turn Parker.
Melvin Jarvis from Thurnby Lodge in Leicestershire has built a full size version of Lady Penelope's pink limo FAB1.
What's more, he hopes to turn Parker and offer fellow fans of Thunderbirds the chance to be chauffeur driven in the retro motor.
"There is still a little bit of finishing off to do here and there but it's pretty much a complete car now. It starts and drives and there's just a bit of cosmetics to finish off. I am hoping to hire it out," Jarvis told the BBC Leicester website.
"It's something I have always wanted to do from being a kid. I have started building it and it has gone from there. There has to be a purpose rather than it being in the garage," adds Jarvis.
Picture courtesy of BBC Leicester.
---
---