Dead Zone 9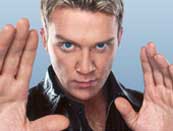 Review: High school shoot-out in Cycle of Violence.
Johnny Smith's visions really do cause a lot of trouble, don't they?
Last week he caused marital meltdown. This week, he's no sooner turned up at a primary school concert and before Little Star's even had a chance to Twinkle, Twinkle he's seeing gun-death-blood-mayhem at a high school.
The Columbine-influenced episode is a parable about government, setting up the school as a little mini-state, where the principal (yes, that is Judge Reinhold) uses Johnny's visions as an excuse to assume that all grumpy teenagers are potential assassins and let his security guards run riot.
It all goes horribly wrong, naturally. A sure sign of a troubled script is that several endings were shot, and even the one used is so ambiguous that you don't know who died, and who lived. You also feel rather cheated by the fact that they pull a paedophile out of a hat at the last moment.
---
---