Voyager season four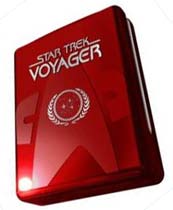 Review: It's the season when Voyager took off. Hurrah!
Time to shovel out a few more feet of videocassettes, as Paramount's DVD releases reach Voyager season four this month.
This is the season when Trek's ugly duckling shed its down and turned into a beautiful Borg bird. Yup, Seven of Nine arrives to rescue the show, with her well-plotted character development, interesting backstory and other appealing assets.
Not that season four isn't great Trek by any standards, with good effects, decent enemies, excellent character interaction and some smashing writing. How can you complain about a season that shows you Borg, space Nazis and the back of Kes?
This new-found confidence in the show itself is reflected in the extras, especially the well-constructed Season Four Overview. Every interviewee sounds pleased but surprised - rather like someone who's just won a raffle - at how good the season is.
Seven of Nine is the big story of the extras, of course, but it's a well-told one, so fair enough. Seeing Jeri Ryan out of character is a revelation well-worthwhile too - she's so girly! And her smile is soooo wide!
Apart from the Seven-fest, the extras mostly concentrate on the technical whizz-bangery that went into making the season. There's featurettes on animated aliens, visual effects, background artists, all with plentiful interviews intercut with before and after footage. They're a bit of a nerd's delight, but a strangely fascinating one, full of unexpected gems like an animation of species 8472 having a drink and a cigarette.
There's also character overviews of Harry Kim and, you guessed it, Seven of Nine, which prove that Garrett Wang is very sweet and Jeri Ryan is very pretty. If you've still not had enough Seven, she pops up again in most of the plentiful Easter Eggs.
Overall, the package is very good - so good that there's almost nothing for me to take the mickey out of. But fortunately Paramount have kindly included footage of a DVD release party, at which second-string cast members and confused scientists mingle. Super! It just wouldn't be a proper Trek release without a hideously misjudged feature, after all.
---
---