Mad Mad House 8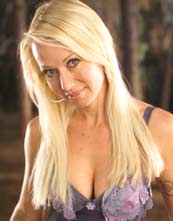 Fiona throws tantrums as nerves start to fray.
With only four contestants remaining, the stresses and strains of this competition are really beginning to show. Not on the norms though - Alt Fiona seemed the closest to cracking.
Now I don't want to upset anyone's religious beliefs, so if being monumentally inconsistent and childish is an established practice within Wicca, then big apologies. But I rather think this is a special facet unique to Fiona's interpretation, for our busty broom-rider spent most of this episode in a right old tizz.
Denied Eric's company as a roommate, she responded by making Loana cry before sweeping majestically off to bed on her own. Seeing the chance to win a few brownie points, sorry, cheer her up, Eric left a little flower and note on her pillow.
Sadly, the supposed oh so perceptive witch immediately jumped to the conclusion that Loana had left it, based on nothing very much at all. On discovering her mistake, her reaction was astounding.
"I'm exhausted!" she screamed at the hapless Loana, before bursting into tears. "I just keep giving and I've got nothing from you." I think it's safe to say she doesn't deal well with disappointment.
The trial this week was a sort of live-action hangman. It added a few scares to the show, but the real horror came later, when Nicole performed a gruesome amateur rap. Then she sang, before anyone could do anything to stop her.
This lacklustre episode was only saved by the eviction - very tense as sweet little Jamie looked set for the chop. But there's justice still in the world, as Loana got the bum's rush instead. Hooray! Result!
Mad Mad House is on the UK Sci Fi Channel on Thursday nights.
---
---